Discord | YouTube | Twitter | Updates: Site: Jun 8, 2021 | Dictionary: Aug 27, 2019


If you like Ta'agra, please consider supporting Foxes in Love.

Ta'agra uses the same base ten number system modern people are familiar with, comprised of characters for 0 through 9. What is unique about Ta'agra is the traditional style of building larger numbers. The traditional method is to stack the 10's place over the 1's place as shown below. It is also acceptable to write the Ta'agra numerals in a single line like English. This style is often adopted by Khajiit living outside of Elsweyr.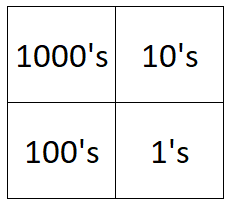 | | |
| --- | --- |
| English method: | 1234 |
| Ta'agra traditional: | |
| Ta'agra modern: | |
TA'AGRA NUMERALS
| | | | | | | | | | | |
| --- | --- | --- | --- | --- | --- | --- | --- | --- | --- | --- |
| | 0 | 1 | 2 | 3 | 4 | 5 | 6 | 7 | 8 | 9 |
| 0 | | | | | | | | | | |
| 10 | | | | | | | | | | |
| 20 | | | | | | | | | | |
| 30 | | | | | | | | | | |
| 40 | | | | | | | | | | |
| 50 | | | | | | | | | | |
| 60 | | | | | | | | | | |
| 70 | | | | | | | | | | |
| 80 | | | | | | | | | | |
| 90 | | | | | | | | | | |